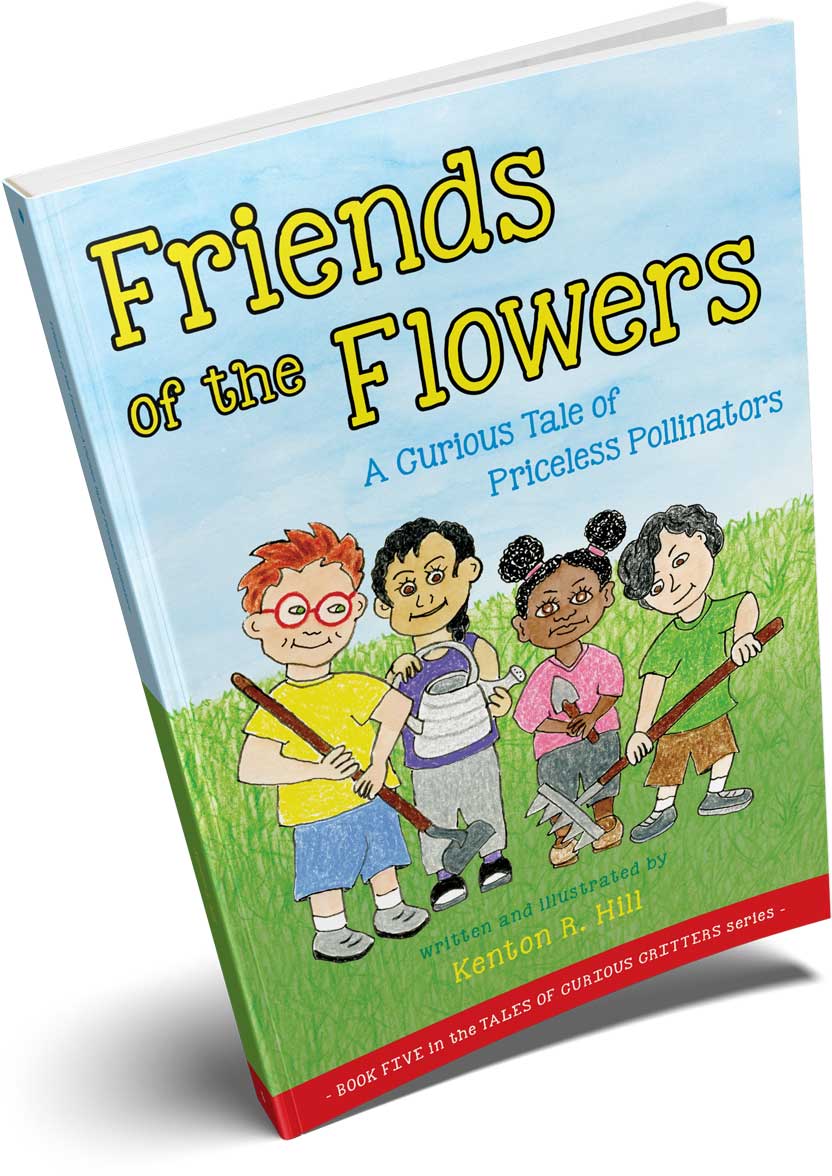 Friends of the Flowers: A Curious Tale of Priceless Pollinators
This is the fifth book in the Tales of Curious Critters series for early readers. It continues the adventures of Boone and Rosa. This time not only does Boone's brother, Gus, but their friend, Gina, joins them as their curiosity leads them to the garden of their neighbor, Mr. Bloom.
Mr. Bloom offers these four friends an opportunity to become junior gardeners - a chance for them to learn about flowers and pollination, and in the process to make a real contribution to nature and to the future.
As with all other stories in the series, Friends of the Flowers is full of scientific facts and offers real ways kids can make a difference.
After a career as a teacher, counselor, school principal, and leadership coach, Ken is now writing and illustrating children's books. He lives with his wife in Portland, Oregon where (even though he is allergic to bees) they tend a garden of flowers to attract bees, butterflies, beetles, and humming birds.
Purchase from Powell's
Purchase from Bookshop
Purchase from Amazon
Purchase from Barnes & Noble
See what people are saying in the testimonials below.
What the Fans are saying…
The story is great. My grandkids were engaged and learned a lot. The story is focused, funny, filled with facts, and is user friendly for early readers.
This is a nice addition to the Tales of Curious Critters series. The words and concepts are very much in tune with an early reader. I like that all four kids get to be a champion of a different pollinator, and learn by doing. A good job of uncovering facts through storytelling - learning as the characters in the book do the same. That is not easy to do.
I like the story, and I think kids will learn something while enjoying it. Thanks for writing about bees!!!
I think this story is a terrific way for kids to learn about pollinators. My favorite thing about the story is the way it shows how kids love to learn especially if they have a hands-on thing like a garden. The relationships among the kids are sweet, but contain the complications that do really come up among friends and family.
FRIENDS OF THE FLOWERS does a great job of bringing pollinator diversity to life! Hill uses the perfect mix of science and storytelling to guide readers on the importance of wild bees, beetles, butterflies, and hummingbirds, and offers small but meaningful ways to support pollinators. It's likely to inspire a new wave of curiosity when exploring the garden.